Commercial Services
Bugs Beware understands the value of your business reputation. Your customers and employees rely on you to provide a safe, clean and pest-free environment.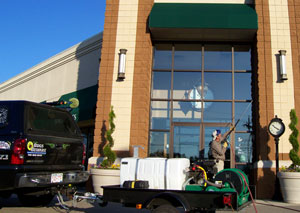 Pests have been around for thousands of years. Today, they continue to create major health and sanitation problems. For owners and managers of commercial properties, the presence of these and other pests are an enormous threat to the future of their business. At best, pest problems cause health code citations and negative publicity. At worst, they can cause structural damage and sickness. Add to this the concerns associated with chemical pesticide usage and it's easy to understand why pest management in commercial environments is serious business. A pest-free environment is no longer a choice for many types of businesses, it's the law! Bugs Beware can help you comply with increasingly stringent Federal, State, and Local health regulations that are getting tougher each year. That's why Bugs Beware is a necessary and vital service.
Bugs Beware offers inspections, pest monitoring, structural damage inspections, pest-proofing, and Integrated Pest Management (IPM) consulting services. Integrated Pest Management (IPM) approach to effectively managing pests while minimizing pesticide usage.
Bugs Beware understands that varying industries have different pest control needs and those needs require special consideration in treatment solutions. I will assist you with any of your quality assurance functions. No matter if your business is large or small I will work with you to tailor your pest treatment plan to address your needs.
Bugs Beware offers a wide variety of services and service programs for our commercial pest management clients. Services and service programs vary depending on the needs of each of our clients. Bugs Beware will inspect your facility and make recommendations that will fit your needs and ensure a pest free environment. From restaurants to corporate offices, Bugs Beware provides the highest quality service without compromising safety.