Welcome! Thank you!
Bugs Beware Pest Control welcomes you back and thanks you for your continued business and choosing Bugs Beware as your #1 pest control services company in Shawano, Wisconsin! We want you to know that we enjoy serving your pest control needs! We also thank you for your referrals and recommendations. We enjoy welcoming new clients and serving the needs of our loyal clients!
If you would like to get on the list early, please click here and answer a few questions, select the services you may be interested in receiving and get on the list!
We also have awesome news for the 2023 season!
Package Discounts: Spring, Fall & Mosquito & Tick Prevention
You already know about the Spring Treatment and the Fall Treatment, and you may even already subscribe to the Mosquito & Tick Pest Control Program! This year, if you combine all three packages, Bugs Beware will give you a discount on the group package.
Interior & Exterior Pest Control Services
With the new 2023 season, Bugs Beware is expanding its services to include full pest control for interiors and exteriors of residents and commercial structures!
Expanded Service Area
Bugs Beware has expanded its service area (please see the map below). If you are on the edge of the area, please give us a call because chances are good we will be in your area!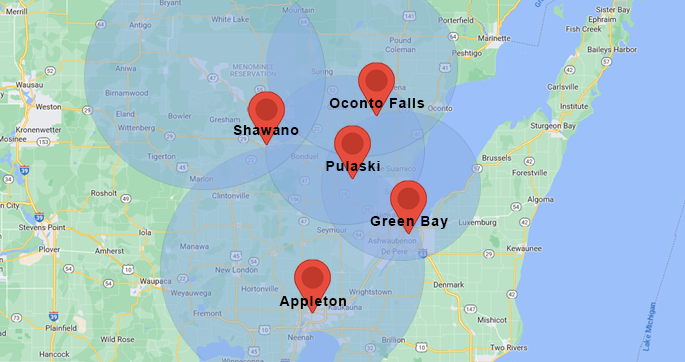 Returning Clients
Thank you so much for your continued business! As a returning client, please reach out to us however is most convenient for you:
Use the on-line sign-up form to get on the list!
If you would like to update your contact information, please feel free to use our on-line form.
Call us at 715-851-1543 (that number also receives text messages).
New Bugs Beware Customers
Thank you for selecting Bugs Beware! Just answer a few questions here & we will get you on the list! For more than two decades, Bugs Beware Pest Control has been the favored bug guys in Shawano! We look forward to meeting you and becoming your single source for pest control of mosquitoes, spiders, ants, bees, silverfish, centipede and all those invaders that would like to make your home their home!